Niccolo is a collection of contemporary chic hotels with the most desirable, highly prized addresses, underpinning the brand is the desire to make life effortlessly luxurious for guests.
「尼依格罗」为一系列时尚雅致的酒店,坐落于各个城市的特选黄金地段。
At heart, as discoverers and re-discoverers of luxury experiences, styles and tastes, its hotels are modern sophisticated spaces, where the timeless pleasure of impeccable hospitality from another golden era in travel, is valued.
「尼依格罗」代表着大都市的摩登与雅致完美结合:城市的潮流风尚,奢华的舒适享受,传统热诚的尊贵服务和优雅贵气。
Underpinning everything we do is the desire to make life effortlessly luxurious.
它不仅是一个酒店旗舰品牌,更是一种超越物质的奢华体验。
Located at Chengdu's celebrated International Finance Square (IFS) within the Chun Xi Road business district, Niccolo occupies the city's highly desirable and fashionable address. With Chengdu Shuangliu International Airport just 25 minutes away by car and the impressive metro subway network with an entrance conveniently located in IFS, hotel guest can travel effortlessly to the city beyond.
成都尼依格罗酒店坐落于成都市心脏地带-春熙路商业圈的成都国际金融中心(IFS),是全城黄金时尚地段。酒店距离成都双流国际机场仅25分钟车程。同时,IFS处于全城地铁网络的中心,商场内设有地铁出入口,可谓朝发夕至丶四通八达。
Niccolo Chengdu offers the seasoned traveller a choice of 230 spacious, luxurious guestrooms and suites from 45 to 200 m2. With fashion-inspired interiors by leading designers, featuring natural textiles and leathers in subtle earth tones, there's an understated sophistication to all guestrooms. Hotel provides four distinct dining experiences to satisfy the most demanding of palates including the eclectic Niccolo Kitchen, Yue Hin Chinese restaurant, Tea Lounge, which offers satisfying afternoon tea with harmonising savouries, and The Bar, providing timeless cocktails with delicious samplers.
成都尼依格罗为旅游达人提供230间宽敞豪华的客房和套房,室内面积由45至200平方米。酒店房间结合了顶尖设计师的时尚灵感,室内大多使用淡雅大地色系的自然织物和皮革制品,展现素雅别致的风格。酒店提供四种各具特色的餐饮体验,成功征服资深吃客的味蕾。其中包括欣厨西餐厅、玥轩中餐厅、悦廊和酒廊。悦廊提供精品下午茶搭配可口点心;酒廊则以经典鸡尾酒和美味小食闻名。
Niccolo is Chengdu's epicentre for business events and celebrations. The Niccolo Ballroom is the centrepiece located on the 7th floor and The Conservatory, a breathtaking oval glass venue surrounded by the Sculpture Garden on the 8th floor, provide dramatic backdrops for custom-designed banquets, weddings, corporate events, meetings, product launches and important celebrations.
尼依格罗是成都举办商业会议和私人派对的优越场所。尼依格罗宴会厅位于酒店七楼,在八楼设有华丽的茵园礼堂,四周由椭圆形玻璃环绕,俯瞰七楼的雕塑花园。其独特的场所设计,为每一个私人晚会、婚宴、公司聚会、商业会议、新品发布会以及各式庆典锦上添花。
JOIN US TO EMBARK ON A CONTEMPORARY CHIC JOURNEY
开启您的时尚雅致之旅
*Niccolo Chengdu is entitled to modify contents on this webpage at any time without any notice. Niccolo Chengdu does not warrant the accuracy, completeness or latest data published on this webpage. All pictures and texts published on this webpage are for reference only, which are not the commitments or agreements made by the Niccolo Chengdu. All positions' compensation & benefits / duties & responsibilities are subject to the employment contract signed between both parties.
*成都尼依格罗酒店拥有对本网页内容进行随时更新之权利,事前将不会另行通知。成都尼依格罗酒店不保证本网页展示的资料是否为正确、全面的最新数据。本网页内的所有图片、文字描述等均仅作为参考信息,不构成成都尼依格罗酒店的任何要约或承诺。所有职位的薪资福利和职责义务以双方签订的劳动合同约定为准。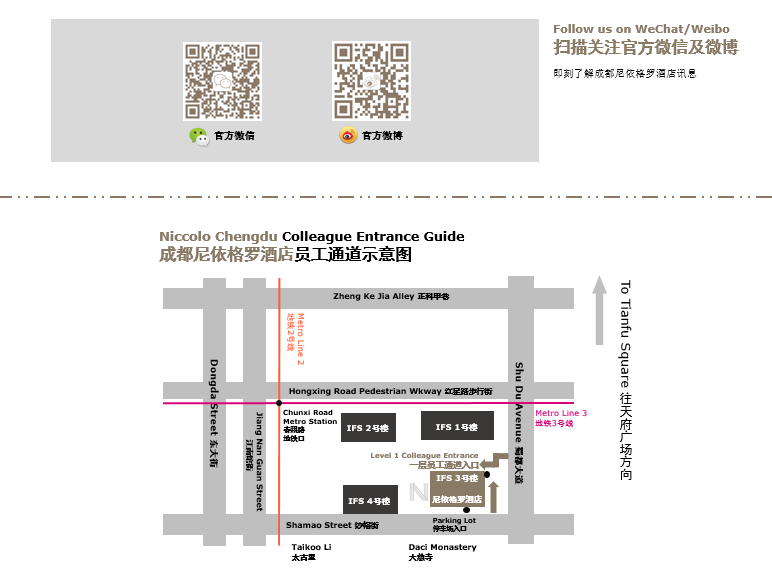 我们的福利:
五险一金
每周双休
住宿津贴
带薪休假
培训发展
位置优越
奢华体验
时尚雅致
潮流风尚
时尚之旅